Golf players are kings in our castle.
Included in a park with broad and generous lines, the link designed for seasoned players runs along a well balanced range under centennial trees.
A 6-hole pitch and putt is also available for beginners and confirmed golfers alike to train on.
The links follow the lay of the land to preserve the authenticity of this natural environment. The ancestral trees are particularly well preserved.
The Course is full of variety and is laid out over fine "golfing country".
The magnificent oaks and beech forests, which surround the golfing complex, offer wonderful walks in the hills and down in the valleys. This is a golf course where you can enjoy the pleasure of playing eighteen holes the whole year round.
Since its opening in 1968, Bertichères is now established as one of the best courses close Paris.
Sunday, May 29th, 2005. The ancient of the club on the photograph waited for sprinkling since 1968. Now, the course of 18 holes can be played, all year long, with the same pleasure.
Le golf de la Bertichères
Dessiné par Donald Harradine en 1968, le dessin technique et extrêmement varié suit le mouvement de la forêt et du parc dans lequel il a été créé il y a plus de 50 ans et offre aux débutants comme aux joueurs une évasion de tous les instants
Ses 18 trous de ce par 72 de 6152 m sont accompagnés d'un pitch and putt de 9 trous permettant autant l'entrainement des joueurs confirmés que l'initiation des débutants.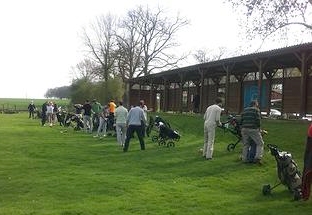 Un practice avec des postes d'entrainement couverts vous attend toute l'année afin de vous permettre d'améliorer l'ensemble de vos coups.
Conditions d'accès et tarifs
Accueil ouverture : 8h00 - 19h00. 7 jours sur 7.
Ouvert aux joueurs Green-Fee
Week-end et Semaine: Carte verte
Temps de jeu maximum pour 18 T : 4h20
Tenue vestimentaire correcte exigée.
Chaussures à clous interdites.
Chiens admis en laisse,
Voiturette : location sur réservation.
Réservation des départs par mail et auprès de l'accueil - Tél : 03 44 49 00 81
Tarifs des Green-Fees
Haute saison (16 mars au 14 novembre hors promotion)
Semaine : 18 trous 39 €
Week-end : 18 trous 68 €
Voir tous les tarifs selon les jours avec les promos "jour spéciaux" et "forfaits" voiture et déjeuner.